Does your Jade split look like this? (video tutorial at the end ↓)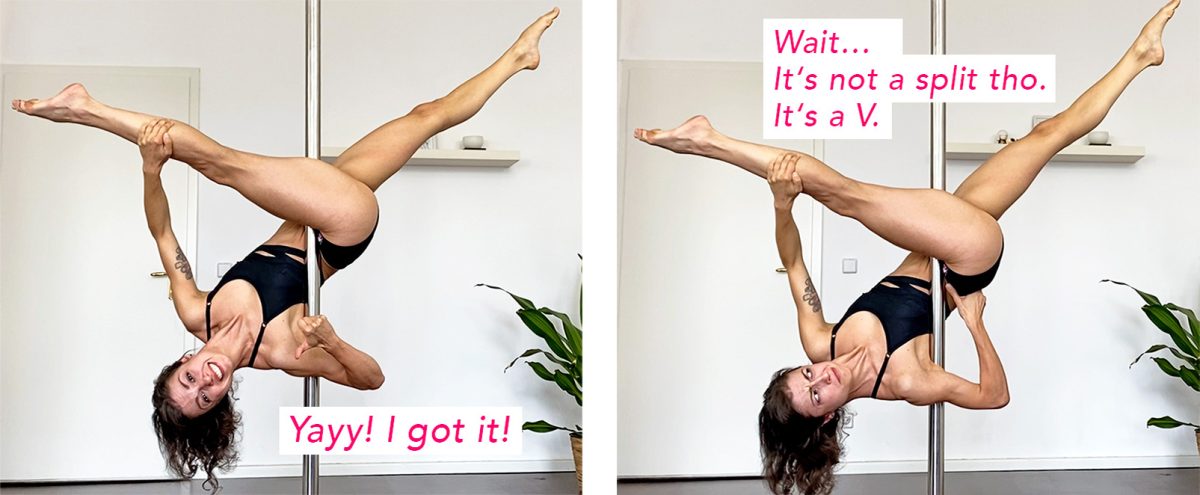 You can hold it, but it doesn't quite look like a split.
"So it must be my flexibility that's holding me back, right?!"
Well…yes and no.
There's a common misconception that you need flat front splits on the floor to do a decent Jade.
Sure, flexy front splits will definitely help your Jade, but the key to getting flat splits in the air is active flexibility.
'Active' means engaging your muscles to reach your maximum range of motion, instead of relying on gravity and other tools.
The Jade split is a great way to measure the gap between your passive and active flexibility.
If you can already do the splits on the floor but struggle in the air, that's still a great starting point! Now it's time to work on your ACTIVE flexibility.
If you don't have your splits on the floor yet, that doesn't mean that the Jade is impossible! You just need to work on your ACTIVE and PASSIVE flexibility at the same time.
Wherever you are with your splits, I recommend my full on-demand lessons…
Jade – Shapes and Combos on Jade variations, combos and transitions and
Full Body Stretching where I teach active stretches for the pole, and specifically for the Jade split.
But there's more to the Jade split than flexibility. Your grip and technique play a huge role in getting the most out of your flexibility.
Your #1 Focus: Solid Grip & Contact Points
The stronger your grip is, the more you can open up the split without sliding.
These are the main ingredients for a strong and stable grip in your Jade split:
Have the pole on the side of your waist from the start.
Pull your leg across to the opposite shoulder (not just down to your head!). This will press your thigh against the pole. This is your main contact point.
Squeeze the pole with your inner arm, elbow in.
Keep your chest open at all times and your back straight/slightly arched.
Rounding your back will make you slide.
#2: Unlocking your flat Jade split
Now that you have good grip, here are my top 3 secrets for getting the most out of your FLEXIBILITY:
Keep the top leg close to your body, as you start opening the split. Otherwise, you'll end up in that awkward V-shape.
Use your quads and glutes to lower the back leg as much as possible. First reach with your toes to the floor, and straighten your leg at the end.
Let the outer hip drop down and rotate your leg outwards (knee pointing to the side) to open up your split.
Watch the Jade tutorial here:
Ready to nail your Jade?
I have 4 full-length classes focused on Jade variations, combos and transitions.
In these lessons, I answer every question about technique, flexibility and common mistakes. They're almost like in-person classes. You'll also find active flexibility exercises and a detailed breakdown of every transition.
✓ Prerequisites: Basic invert & leg hangs
✓ Suitable for low ceilings
"Can I work with the videos at my own pace?"
Absolutely. That's the big advantage of on-demand videos.
You can split one lesson into several training sessions. You can pause, re-watch, jump to certain parts and come back to them at any time. And you have lifetime access.
You tried my tips for making your Jade split flat? Which one helped you the most?
Let me know in the comments.
RECOMMENDED: Turn your pole splits into magic: Here are the secret ingredients for Split Illusions.