What do pole tricks like Allegra, Inverted Ballerina, Cocoon and Broken Doll have in common?
The obvious thing: They all require decent BACK FLEXIBILITY.
Less obvious: They're all from inside leg hang.
These tricks are dream shapes for many pole dancers.
However, 70% of pole dancers don't like stretching their back.
The splits? Sure!
The back…? Uhmm maybe on a different day?! 😁
Even if you do stretch your back regularly, bendy shapes WITH THE POLE feel much harder. All of your body parts are involved and your technique plays a big role too. It takes time to develop your flexibility on the pole.
Is there a shortcut to Bendy Shapes still?
Yes and No
Here are a few things about Bendy Shapes that might surprise you:
Open hips and shoulders are half the battle.
Breathing correctly will help you reach a deeper stretch.
Your technique of how you enter into these shapes is essential. The devil is in the details.
You can work on these pole shapes on the floor and without the pole.
In fact, there are targeted stretches designed specifically for these tricks that will get you bendy and pole-ready, before you've even touched the pole.
These exercises are included in my online lessons "Bendy Shapes (from inside leg hang)".
You can send me an email to purchase the lessons.
In "Bendy Shapes" you'll learn all the tricks and techniques for bending and twisting around the pole in a safe and progressive way. You'll get closer to dream shapes like Allegra, Inverted Ballerina, Cocoon, Broken Doll and even Eagle. 
Here's a preview of what you'll learn:
✓ Got dizzy from watching the preview? Don't worry, all of the combos work on static. Spinning is optional.
✓ Suitable for low ceilings
If you looked at the video and you thought:
"I'd like to take this class but I don't know if I'm FLEXIBLE enough"
let me address your concerns here.
"Bendy Shapes" is NOT for the flexible people ONLY. It's for ALL intermediate and advanced level students (see next question) who want to work on bendy shapes and improve their flexibility.
If you're one of those "inflexible" people, don't be afraid. Every bendy shape consists of several steps and progressions – e.g. use a strap → grab your toes through the side → grab your ankle → grab your shin → grab your leg above head, etc.
You decide which step you feel comfortable with. You can either stick to that or move a step further when you feel ready to get challenged.
In any case, we'll use a strap to get there and you'll always have an "inflexible" variation as a fallback.
There's a minimum shoulder and back flexibility that you need to bring for "Bendy Shapes" – being able to push yourself into a WHEEL/BRIDGE.
Your bridge, however, doesn't need to be perfectly aligned. It's ok if your hips are still low and your feet and hands are wide. This ↓ would be enough.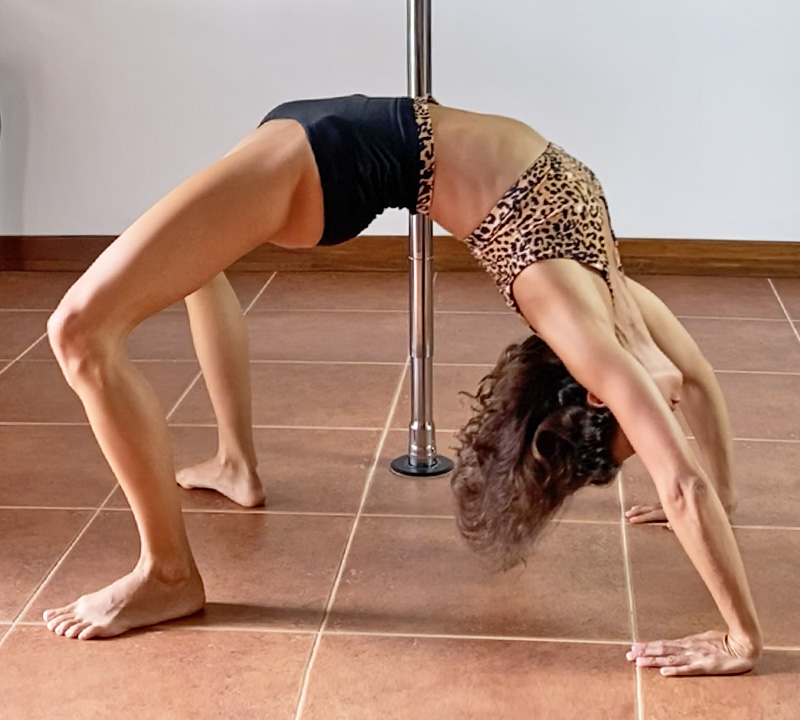 There's no need to wait until you're more flexible. In "Bendy Shapes", you'll learn different breathing and stretching techniques, shape variations and combos that suit YOUR level of strength and flexibility. That way you can also work on your range of motion while doing the moves.
"I don't know if I'm STRONG enough"
There's a minimum strength you need to bring, too. 
You can take this class if you…
– have your aerial invert
– feel comfortable in inside leg hang
– can do standard intermediate tricks like Butterfly, Jade, Superman.
Still not sure about your level or have other concerns?
Send me an email and I'll help you.
If you're at a lower level, you can purchase just the first 1-2 classes and see how far you get. We'll progress from easier variations to more difficult ones throughout the lessons.
"Can I work with the videos at my own pace?"
Absolutely. That's the big advantage of on-demand videos. 
You can split one lesson into several training sessions. You can pause, re-watch, jump to certain parts and come back to them at any time. And you have lifetime access.
You'll get 4 recorded full-length classes – 100 minutes each. Enjoy video and audio in full HD (no bad-quality Zoom recordings).
Send me an email to purchase "Bendy Shapes".
Was this article helpful for you and your bendy shapes?
Let me know in the comments if you have more questions.