The Strong Hold Grip is used in pole inverts, aerial transitions and moves like the Fan kick.
In the series "50 Shades of Grip", I cover the common mistakes and the correct technique of the most used hand grips in pole dancing.
Can you spot the mistakes here?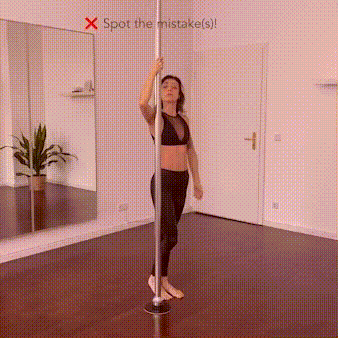 You'd be correct if you guessed that the hands are too high. Thus, the back and the shoulders aren't properly engaged.
Yay! Well done. ✅
Buut…There's one important detail that is easy to miss here – the over-wrapped hands!
Especially in the Strong Hold Grip, over-wrapping is a common mistake.
This one's on me, though. The clip is not very obvious, I admit.
Not sure what over-wrapping means?
Check out this quick tutorial:
In your next training, try to focus on these things:
Hands are in front of your face
Keep forearms straight
Pull shoulders down from your scapula
Inner arm squeezes against the pole
Did you learn anything new? Let me know if you notice a difference and share your insights in the comments below.
Also in the "50 Shades of Grip" series:
True Grip
Half-Bracket Grip
Split Grip (Full-Bracket Grip)
Forearm Grip
Twisted Grip